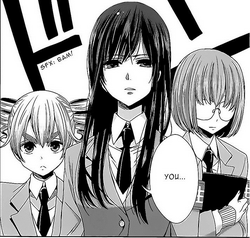 Aihara Academy's Student Council (生徒会, Seitokai?) is a group formed to regulate the school and reinforce the rules to students.
Members

Mei is the beautiful and serious Student Council President, honor student, school chairman's granddaughter, and Yuzu's younger step-sister (although the two are in the same grade). She is stern, cold and composed, but has a short temper. Although greatly respected by the student body, she may on occasion act or speak cruelly.
Mei initially was engaged with a young, handsome male teacher, although Yuzu discovered that he only intended to use her for her money and revealed his transgressions in the morning Assembly, leading to him leaving the school.
Himeko is a Student Council Member and Mei's childhood friend and current right hand. She is from a very wealthy family, having a chauffeur and at least one butler. On weekends she can be seen wearing lolita fashion. She is stern, forward and jealous, and has quite a volatile personality.
She is often seen reprimanding Yuzu's behavior and interactions with Mei, and takes pleasure in causing Yuzu hardships.

Glasses-Senpai is the second vice student council president, and takes her role very seriously. She is usually the friendliest of the school council, yet any insult to the school regulations will force her to take on a more stern overview. She can be seen carrying around a student handbook where ever she goes, and in chapter 1, where in a completely serious mood she goes over all the violations Yuzu has done to the school rules.
Mitsuko was Aihara Academy's first Student Council president, and ruled the school on the sheer prospect of fear. She is also the elder sister of Harumi Taniguchi. When Nene Nomura, a first year student at Aihara dyes her hair chestnut to resemble Yuzu's hairstyle, Mitsuko gives her two options: Either leave the school and keep her hair, or cut all her hair off and that very moment to stay in the school. If it wasn't for Yuzu's timely arrival, Nene would probably be bald in recent chapters. Mitsuko's cold and calculating personality serves to greatly weaken her sister's confidence, as during